Click here for more information about Cozumel Marine Turtle Salvation Program.

For information on

VOLUNTEERING OR OBSERVING

in Cozumel's Turtle Program please visit the Cozumel Marine Turtle Salvation Volunteer & Observation Events information and reservation form.





 

September 2011

Greetings Cozumel Turtle Supporters and Friends!

On behalf of the over 2,500 (and counting) nesting green and loggerhead turtles of Cozumel and the Marine Turtle Salvation Program Committee, I would like to thank each and every one of you for your generosity and participation in our 20011 Marine Turtle Salvation Program Volunteers & Supporters Program..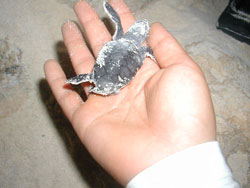 As you are aware from other notices, there was no organized fundraising initiative prior to the 2009 season for Cozumel's Turtle Salvation Program. However, as Cozumel felt the full force of the global financial crisis in 2009 as well as the H1N1 influenza shut down, the city budget was cut which drastically affrected the Turtle Program. At that time, the Turtle Program Managing Committee had no alternative but to look for financial supporters to help the workers and volunteers continue their work.

Unfortunately, difficult financial and economic conditions continue throughout the world now in 2011 so our need to raise funds to support the Cozumel Marine Turtle Salvation Program continues. The 2011 Turtle Program Supporters and Participants are being recognized publicly here as a small token of appreciation by the Turtle Program Committee.

The content of this Recognition Page will continue to change in the weeks ahead as more participants and donations come in throughout the remaining 2011 season. It goes without saying that these donors have been critical to the survival of the 2011 Turtle Salvation Program. However, the season is not yet over and as always, there have been and will be many, many donations made to the program and they are all important to the survival of the program. So please, never under estimate the power of ANY size donation!! Every donation of every size is very much appreciated by the Cozumel Turtle Salvation Program!

As always, the funds donated by supporters will be utilized to try to maintain the turtle program by purchasing various supplies and equipment needed for this season's efforts. These donations make an extraordinary difference to the more than 100 volunteers who work the program each year.

Again, on behalf of the Cozumel Marine Turtle Program Committee, THANK YOU so very much to all of our 2011 TURTLE SUPPORTERS! We appreciate your support of Cozumel's nesting sea turtles!



Sincerely,

Hector Gonzalez
Cozumel Director of Department of Ecology
Cozumel Marine Turtle Salvation Program Coordinator 2011

Sherri Davis
Cozumel Marine Turtle Salvation Program Volunteer 1998 - 2011

2011 Contributors to the Turtle Salvation Program

Laud (More than 15,000 Pesos, US$1,500+)
IslaMar Vacation Villas
Cozumel, MX



---

Caguama (5,000–14,999 Pesos, US$500-1,499)
Ellen Pyle Group
Falls Church, VA
Lois Aring Family
Idaho Falls, ID



---

Blanca (3,300-4,999 Pesos, US$300–499)
E.O. Smith Scuba Group
Andover, CT
Garrett Nelson Group
Moore, OK
Robert Woelfel Group
Houston, TX



---

Carey (1000-2,999 Pesos, US$100-299)
Annamarie Violalowney
Southampton, PA
Art & Pam Bettger
Portland, OR
Bill & Sonya Sparks
Temperance, MI
Brent August & Anne Watson
Columbus, OH
Charles & Elijah Bettger
Portland, OR
Dan & Gen Hartman
Cozumel, MX
Dan Hiris & Sarah Murray
Phoenix, AZ
Ellen Parker
Houston, TX
Erin Hoffman Group
Canon City, CO
Holly & Elaina Murray
Phoenix, AZ
James and Lili Harding
Fordham, UK
Jaocb Cervantes Family
Dallas, TX
Jason Roth
Napanee, ON CA
Jay Anderson
Crystal, MN
Joe & Kathy Yarchak
Willimantic, CT
Joyce Needum Family
Aubrey, TX
Karen Murray & Viola Zito
Phoenix, AZ
Kelly & Laurie Grucza
Parma Heights, OH
Kyle, Nancy & Tyler Dickey
Manassas, VA
Larry & Sheila Withrow
USA
Mark & Shannon Ross Family
Ft. Worth, TX
McNutt Family
Ada, OK
Patricia Gray Group
Champaign, Ill
Patricia Jones Family
St. Marie, ON CA
Paul & Stephanie Schunemann
Sylvania, OH
Scarlett, Brook & Skip Bullock
Oakhurst, CA
Scott Milne
Southampton, PA
Terry & Sarah Aponte
Phoenix, AZ



---

Lora ($50-999 Pesos, US$5-99)
Alan & Lisa Mitchell
Krum, TX
Andrea Pons
New York, NY
Aura Tinsley
Chelan, WA
Bryan Webb
Bedford, TX
Carrie Bakunas
Centennial, CO
Daniel Mattes
Marion, WI
Deborah Dupree
Dallas, TX
Eric Sanderson
Chelan, WA
Georg Stresing
Salzgitter, GERMANY
Jackie Wiser
Mesquite, TX
James & Debra Tenorio
Menomonie, WI
Jeremiah & Melody Zortman
Saint Paul, MN
Jesus Dzul Irabien
Cozumel, MX
John & Christie Wainwright
Saginaw, MI
John & Miranda Martin
Ada, OK
John & Pam Martin
Ada, OK
Julie Dzul Chamberlain
Cozumel, MX
Justin & Kristali Teuscher
Logan, UT
Kelsey Shanahan
Alexandria, VA
Kevin Bahjat
Tuttle, OK
Lea Mueller
Salzgitter, GERMANY
Lubena Natcheva
Menomonie, WI
Margaret Hibbard
Arlington, TX
Margo Bouchard
Albuquerque, NM
Melissa Pirlot
Menomonie, WI
Patricia Huckeba
Mesquite, TX
Phillip & Aimee Burnett
Hallsville, TX
Renee McCoy
Arlington, TX
Saundra Dial
Louisville, KY
Scott Baade
Centennial, CO
Scott Shannon
Tuttle, OK
Steve Clagg
HighlandsRanch, CO
Tammy Stroud
Highlands Ranch,CO