'; // PRINT CALENDAR testWindow.document.write(cal); } var testWindow; var formType; var fName; function openCalendar(formName,type) { formType=type; fName=formName; testWindow = window.open('','dates','width=360,height=300,resizable=1,status=1,menubar=0,location=0'); loadCalendar(document.forms[fName].elements[formType+'Month'].selectedIndex); } //-->
Arriving / Departing - Cozumel Airport
ARRIVALS
For all direct flights arriving in Cozumel, passengers will exit the plane and pass through Mexican Immigration for clearance prior to being allow to retrieve baggage. Immigration wil approve and stamp each visitor's Temporoary Visa Application for a timeframe consistent with the length of stay. Visitors will then move to the Baggage Claim area inside a restricted Mexican Customs Inspection area. Here there are observation cameras in place as well as a canine patrol. Upon claiming bags, visitor will then be asked to present their Customs Declaration form to a Customs Agent and press a button on a "red light/green light" device.

Up until recently, those visitors receiving a green light as they press the button, were allowed to exit Customs without a full inspection of baggage. However, in 2007, new scanning technology was installed at the airport right beside the red light/green light device and now 100% of visitors are asked to place all bags in the scan machine prior to doing the button push device.

Once the Customs/Agriculture inspection is complete, visitors move through a waiting area lobby and out to the street for transporation.

Transporation options OUT OF THE COZUMEL AIRPORT ARE LIMITED. There is one Airport Taxi Shuttle Union (syndicato) with 100% control of transporting passengers OUT of the airport. As a result of this taxi union control, it goes without saying that there are NO COURTESY SHUTTLE SERVICES available from hotels. Hotels or accommodation providers may agree to GREET passengers at the airport and assist with the logistics of baggage transport but NOT the transport of passengers.

Visitors should check their travel documents in advance to determine if hotels transfers are included in excursion packages. If not, tickets for transport to any hotel via the Airport Taxi Shuttle can easily be purchased upon exiting the Baggage Claim/Customs area.

The other transporation alternative is to pick up a rental car at the airport or nearby and then return it the day of departure.
Advance reservations for rental cars are strongly suggested as supply of rental cars on the island is limited and limits are reached during high season by all providers.



Click to Reserve & Learn More About Cozumel Car Rentals!

Clik for Taxi Rates to/from Cozumel Airport

DEPARTURES

Arriving to Cozumel Airport takes time due to Customs and Immigration, and departing via Cozumel Airport also takes time now due to increased security measures. Visitors arriving via charter flights such as Funjet, MLT and Apple Vacations are asked to report to check-in 3 hours prior to departure while standard commercial carriers are requesting check-in 2 hours prior to departure. However, ONE DAY PRIOR, all visitors should check their own travel documents for departure check-in requirements.

Returning to Cozumel Airport via taxi requires 15 - 35 minutes depending on which hotel zone is involved.

Visitors staying in the Downtown area should allow 10 minutes for transport to the airport.
Visitors staying in the North Hotel Zone should allow 20 minutes for transport to the airport.
Visitors staying in the South Hotel Zone should allow 30 - 40 minutes for transport to the airport.
Depending on which hotel is involved, visitors should allow approximately 30 minutes of travel time for transport back to the airport


Fly to Cancun and Crossover to Cozumel
Air Shuttle Schedules Cancun - Cozumel
to Cozumel from Cancun via land ~



Travelers take a 1 hour bus or taxi ride from Cancun Airport to Playa del Carmen

In Playa del Carmen travelers take a 40 minute ferry ride to the island of Cozumel.



to Cozumel from Cancun via airline ~




avoid this additional travel time of the bus and then ferry to Cozumel,

visitors often use the 15 minute air shuttle which departs from the same Cancun Airport.

There are two airline small plane shuttles operating between Cancun and Cozumel although one provider, Aero Tucan seems to come and go with the seasons.
Approximate cost is around US$75 per person one way but does vary throughout the year.
Schedules and prices may change at any time without prior notice.



Tucan Shuttle


Call locally in Cozumel to check availabilty and schedules - 987-869-8172
Call locally in Cancun to check availabilty and schedules - 998-883-0600



| | | |
| --- | --- | --- |
| Days | Cozumel > Cancun | Cancun > Cozumel |
| Daily | 8:30, 17:15 | 7:45, 16:30 |


Click Here to Reserve Mayair Shuttle


| | | |
| --- | --- | --- |
| Days | Cozumel > Cancun | Cancun > Cozumel |
| Daily | 7, 9, 11,15:00, 18:00 | 10, 13:00, 16:00, 20:30 |

Be sure to ASK about luggage weight restrictions because these small planes have little room for luggage and often impose surcharges for bags weighing more than 20 lbs or 10 kg and this could negate any savings you gained elsewhere in your route plan!
Cancun Airport Bus Schedule to/from Playa Del Carmen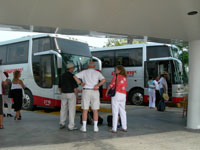 Upon exiting the Immigration, Customs and Baggage Claim area in the Cancun Airport there will be several service desks directly ahead with various transportation options. There are signs that indicate 'Airport Shuttle," "Taxi Service," as well as some car rental agencies. Keep asking and looking for the ADO bus service as it is located slightly out of direct sight.

This bus service makes regular trips between the Cancun Airport and Playa del Carmen. The stated schedule is one trip per hour but the truth is that the buses depart once they fill up with passengers. This means that most of the time, a bus is departing every 15 - 30 minutes. Allow about 1 hour travel time.

When combined with the ferry shuttle, this can be a very inexpensive alternative to the air shuttle between Cancun and Cozumel airports.

Due to the high volume of passengers, this schedule is usually very reliable.
The approximate cost (one way) is $80 pesos or US$8-10.

Playa del Carmen to Cancun
8:00am, 9:00am, 10:30am, 11:45am, 1:00pm, 3:00pm, 4:00pm, 5:00pm, 6:15pm

Cancun to Playa del Carmen
10:45am, 11:45am, 12:45pm, 1:45pm, 3:00pm, 4:45pm, 5:45pm, 7:00pm, 8:30pm
Ferry Service - Passengers - Between Cozumel & Mainland
Cozumel now enjoys the services of 2 competing passenger ferry companies which arrive and depart from the same location: the downtown San Miguel pier (Muelle Fiscal) and then arrive/depart from the same pier in Playa del Carmen as well.

The 2 competitors at first were BOTH offering crossings about every hour. However the economic crisis that begin in 2008 caused both companies to develop a mutually beneficial route rotation system whereby they could both provide service and survive.

The system they developed is quite involved but essentially each company has a crossing from one direction or the other every other hour every other day so it's really hard to keep up with who is crossing when. As a travelling consumer using this service, all it means is that

there is no advantange to purchasing tickets in advance since the ferries are RARELY full and there is no way to predict the precise time one will want to or need to cross to Cozumel.



Between the two companies there are typically ferries in either direction every hour and departures are at

the top of the hour.


During LOW SEASON both companies eliminate some crossings but the longest wait might be 2 hours.

The approximate cost (one way) is $180 Pesos or about US$ 16 per person.

As mentioned schedules change monthly in terms of who is crossing at what hour but in general departures from either point are top of the hour all day long. As an example, the ferry schedule of both companies combined might look like this ~



From Playa del Carmen to Cozumel
6AM, 7AM, 8AM, 9AM, 10AM, 11AM, 1PM, 3PM, 5PM, 6PM, 7PM, 9PM and 11PM

From Cozumel to Playa del Carmen
5AM, 7AM, 8AM, 9AM, 10AM, 12PM, 2PM, 4PM, 5PM, 6PM, 8PM and 10PM



For up to date ferry schedules visit the ferry websites of either company:



UltraMar
987-869-3223 UltraMar Website

Mexico Waterjet
987-872-1578 / 1508 Waterjet Website




Ferry Service - Vehicles - Between Cozumel & Mainland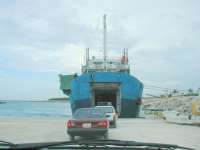 The ferry between Cozumel and Punta Venado (a.k.a. Calica) remains one of the hidden treasures of the area for those wanting to cross a vehicle. Up until just a couple of years ago, crossing a car between the mainland and Cozumel took 4 - 6 hours plus waiting in line at all hours of the night to ensure a space on the 1 or 2 crossings made daily. Thankfully, with competition comes efficiency and speed for the journey now is only about 1 hour and there are so many crossings daily that there is hardly ever a back up of folks wanting to put their vehicles on the vessel.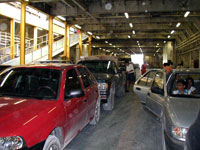 On the mainland, few signs direct you to the ferry boarding area, or even tell you of its existence (unlike the passenger ferry at Playa del Carmen which is marked with highway signs). There is a sign at the roadway entrance, but it is not well illuminated and it is set back far enough from the road that your car headlights likely won't pick it up if travelling at night. It is approximately 7Km south of the main highway intersection at Playa del Carmen, and about 1.5 Km south of the exit for Xcaret. There are signs along the way south of Playa del Carmen which say Calica and this is where the boarding pier is located so follow these signs and directionals.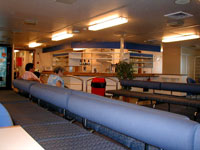 PLEASE NOTE: this crossing service is not a tourist activity. The freight and vehicle crossing service is a critical link in Cozumel's island economy. It is used primarily by locals and distribution companies getting inventory to and from Cozumel. So don't expect the staff to speak or understand much English and don't get huffy when change is provided in pesos. All one needs to do is drive up to the offices where there will be a man with a clipboard who sells tickets. He will direct vehicles into lines as they will embark the boat. The crossing takes about 60 minutes from dock to dock. The fare is roughly 800 pesos ($US 65) for a car & driver and 50 pesos ($US 5) for each additional passenger. However, during certain times of the year like Semana Santa and Christmas holidays Transcaribe often runs promotional pricing for sedan type cars at around $350 pesos (US$ 30).

From Cozumel to Calica
Monday through Saturday
Sunday

6:00 AM, 11:00AM, 4:00 PM, 8:30 PM
8:00AM, 8:00PM (Check - Schedule Varies)
From Calica to Cozumel
Monday through Saturday
Sunday

4:00 AM, 8:00 AM, 1:30 PM, 6:00 PM
6:00AM, 6:00PM (Check - Schedule Varies)
Information and schedule as of October 2012
For more information contact Trans del Caribe in Cozumel at 987-872-7688 / 7671 / 7504
or visit their website www.transcaribe.net





For those living on the island who enjoy crossing to the mainland frequently, there is "Plan Local" discount pricing available for both Mexicans and expats who provide the proper proof of residency and documentation. More details are available here More About Transcaribe Plan Local Discounts


| | | |
| --- | --- | --- |
| Some Ideas for Island Transportation ~ Support Our Website! | | |
Just want you to know that everything worked out great with LessPay! They honored their web price, let us pick up a day early, and when the car had problems (bad brakes & clutch), they happily swapped it out for another car the next day, no questions asked. We were very impressed with how efficient they were with paperwork, and they even offered to drive us to the ferry when we turned the car back in! We will definitely use them again and will recommend them to others. Their prices were reasonable and they were very friendly (and spoke English, too). R. Wolf ~ Mimon, MA
---
Hello Cozumel Insider - Just wanted to thank you very much for organizing the tour to Coba and Tulum and the snorkel at Akumel for our family on December 27th. We had a wonderful day and would like our appreciation for our driver and guide to be noted. We understood our tour was for 8 hours and after spending too much time at the sites of the ruins (they are amazing and, with our daughter who is in her 3rd year of archaeology, spent longer than most visiting Coba) our day was running a bit short of time. We thought we would have to forgo our planned snorkel at Akumel, but both our driver and tour guide agreed to put in an hour and a half extra to allow us to swim.

We truly appreciated this - Mexico is a beautiful country with many diverse treasures and to have people so eager for us to see and enjoy them made them all that more special!!

Thank you!! Julie Bose Family ~ Salmon Arm, BC Canada



Copyright © 2000-2014 Sherri Davis, All Rights Reserved. All website content is the property of Cozumel Insider unless otherwise attributed and cannot be used, displayed or reproduced without express written permission from Cozumel Insider. Contributors retain the copyright to their work where applicable; please do not take art or words without permission. Other graphics and reference materials are used and attributed as per the Fair Use Provision of The Copyright Act and individual terms of use.