'; // PRINT CALENDAR testWindow.document.write(cal); } var testWindow; var formType; var fName; function openCalendar(formName,type) { formType=type; fName=formName; testWindow = window.open('','dates','width=360,height=300,resizable=1,status=1,menubar=0,location=0'); loadCalendar(document.forms[fName].elements[formType+'Month'].selectedIndex); } //-->
Playa del Carmen Transportation - Getting Around the Area
Taxi Services are reasonably priced in Playa because it is so easy to walk everywhere!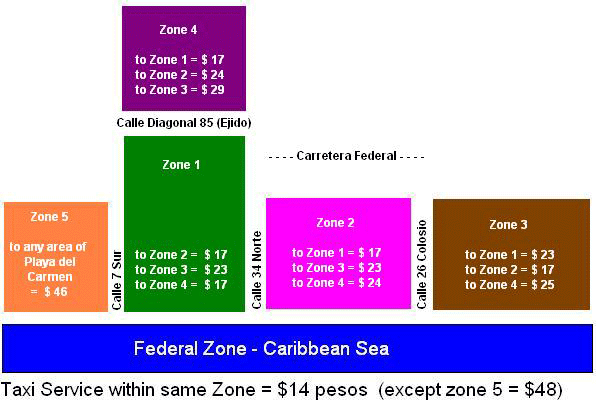 Playa del Carmen Car Rentals
Use INSIDER'S Search & Reservation Tool
fo find the best car rental prices available in PLAYA del CARMEN!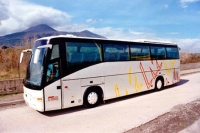 For the adventurous traveler there are many tourist site excursions on the mainland available by bus. It's a great (inexpensive) way to travel throughout the Mayan Riviera, however there are many pitfalls of which to be concerned.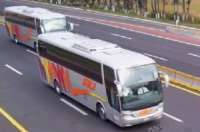 Make sure you communicate with the driver ahead of time where you want to be dropped off. Some stops are not bus stations (like in Playa del Carmen) but just stops along the highway which are unmarked. The driver won't stop unless there is someone waiting at the stop or a request is made from a passanger to stop. So speak up if you need to exit the bus.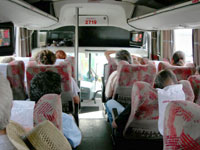 When purchasing a bus ticket, all you get is the bus ticket. Nothing is included in the form of admittance into the destination, tour guide, or translation of tour itself.

The best option for purchasing bus tickets is to either do so online if one is familiar with the bus line or simply purchase tickets upon arrival at the bus station in Cancun.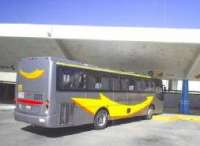 For travelers in Cozumel wanting to explore the mainland via bus there is an ADO (one of the most popular bus lines) Ticket office near the corner of Calle 2 Norte & Avenida 10 next to TELCEL store. Pass by to check schedules, destinations and/or approximate costs for budgeting purposes and to buy tickets.

The main bus station for Cancun is in the downtown area of Cuidad de Cancun in the business/commercial district. Across the street is a hotel and there are many nearby restaurants as well in case travelers want to linger awhile before venturing on to another destination.

Some approximate sample fairs and travel times from Cancun include:
(These are subject to change. Check for Tours to these places also!)


| | | |
| --- | --- | --- |
| Destination | Cost (Pesos) | Travel Time |
| Merida | 246 | 5 hour |
| Chetumal | 228 | 5 hours |
| Coba | 46 | 2 hours |
| Chichen Itza | 140 | 3 Ĺ hours |
| Akumal | 100 | 2 hours |
| Puerto Morelos | 18 | 30 minute |
| Cancun | 36 | 1 hour |
| Tulum | 54 | 1 hour |
| F. Carrillo Puerto | 144 | 2 hours |
| Xcaret | 37 | 10 minutes |
| Xel-Ha | 53 | 45 minutes |

Typically there are 2 levels of bus service in Mexico, first class and coach. First class buses generally adhere closely to the maintained schedule and rarely have any stops between the departure and destination points. However, coach service can be quite different as schedules can and usually will deviate from stated departure and arrival times. Donít be surprised if many spontaneous stops are made along the way to pick up passengers.

For those wanting to catch a glimpse of Cuidad Cancun and explore a bit, just jump on one of the public buses that pass on the streetside of the hotels. The public buses run frequently and go all over Cuidad de Cancun for just a few pesos. One favorite place to end up is PLAZA OF THE AMERICAS. If you do this, just plan on taking a taxi back into the Hotel Zone (i.e. take extra money for cab fare) it will be easier and faster. Have fun!
| | | |
| --- | --- | --- |
| Support our website! Reserve Mainland Tours Online with Us! | | |
Design Your Very Own Custom Mainland Tour!
Tired of visiting the sights as part of the "herd?" Not seeing an excursion that exactly fits how you'd like to spend your day on the mainland? No problem! COZUMELINSIDER can custom design a mainland excursion just for you and your group! From US$168
Cancun - Tulum Express
Visit this city that is icon of the Maya culture in the Mexican Caribbean and the only built facing the sea. Due to its amazing architecture and location on a cliff facing the turquoise waters of the Caribbean sea, Tulum is the third most visited prehispanic site in Mexico. US$ 57.00 Adult / US$ 41.00 Kids
Cancun - Tulum Xel-Ha' All Inclusive
Visit this city that is icon of the Maya culture in the Mexican Caribbean and the only built facing the sea. Due to its amazing architecture and location on a cliff facing the turquoise waters of the Caribbean sea, Tulum is the third most visited prehispanic site in Mexico. US$ 159.00 Adult / US$ 79.50 Kids
Riviera Maya - Dolphin Swim Adventure
Share a series of sensational and safe activities while establishing a unique bond of trust. With a handshake, kiss and belly ride will enjoy moments of great spontaneity during your free time together. It is an unforgettable experience! US$ 119.00 Adults / US$ 89.00 Kids
Riviera Maya - Dolphin Encounter
Enjoy a learning and interactive experience fun for all ages! A great way to introduce young and old to the wonders of dolphins and sea life! US$ 89.00 Adults / US$ 89.00 Kids
Riviera Maya - Dolphin Royal Swim
This most popular program can be described in two words: "action" and "speed". Get a handshake, a kiss and then you give them one. Feel the strength of your new friends as they push you across the water from the bottom of your feet in the thrilling foot-push. It is "the experience of a lifetime!" US$ 149.00 Adults / US$ 89.00 Kids
Riviera Maya - Tulum Express
Visit this city that is icon of the Maya culture in the Mexican Caribbean and the only built facing the sea. Due to its amazing architecture and location on a cliff facing the turquoise waters of the Caribbean sea, Tulum is the third most visited prehispanic site in Mexico. US$ 57.00 Adults / US$ 41.00 Kids


Riviera Maya - Dolphin Encounter
Design Your Very Own Custom Mainland Tour!
Cancun - Tulum Express



Copyright © 2000-2014 Sherri Davis, All Rights Reserved. All website content is the property of Cozumel Insider unless otherwise attributed and cannot be used, displayed or reproduced without express written permission from Cozumel Insider. Contributors retain the copyright to their work where applicable; please do not take art or words without permission. Other graphics and reference materials are used and attributed as per the Fair Use Provision of The Copyright Act and individual terms of use.