While many folks outside of Mexico have heard of Cozumel, only some are familiar with the name of the island's only town, San Miguel. Now when you break it down and start talking San Miguel neighborhoods, many would have to admit that we really don't know the difference between a colonia and a columpio.

What follows is the Insider's effort to familiarize first-timers and frequent visitors with what is really the heart and soul of our community -- the neighborhoods. In addition, we hope these descriptions and guidelines will be especially useful to those looking to rent vacation home properties, as well as prospective homebuyers.

This is by no means a complete listing, and the borders may not be exact, but it can be a great starting point for learning more about the ever-changing

of the Swallows

.



Map - Cozumel Colonias (Neighborhoods)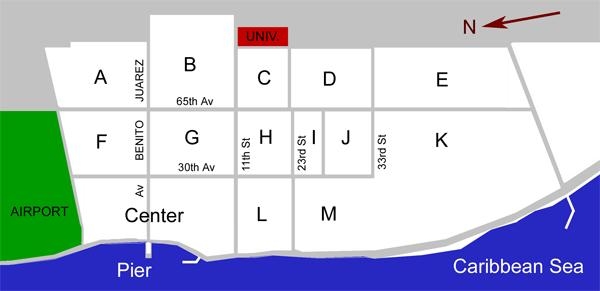 Downtown Districts

A Emiliana Zapata B Juan Bautista de la V. - San Gervasio - Chen Tuk Center Repobladores de 1848 - Flores Magon - Cuzamil C Maravilla D Flamingos E Taxistas y CTM F 10 de Abril G Adolfo L. Mateos H Independencia I San Miguel I J San Miguel II K Ix-Chil L Andres Q. Roo M Colonos Cuzamil
The original island settlers divided themselves between two villages, namely San Miguel and El Cedral. Over time only San Miguel continued to grow, with newcomers constantly clearing their own space among the thick, dense jungle that covers the island.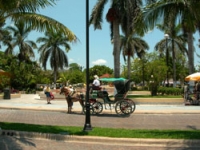 Initially there was just a small area of wooden houses and businesses that fringed the village's main plaza. As more and more people came to reside on Cozumel, continued expansion was necessary to accommodate businesses and housing, so little by little an area of jungle would be cleared, streets carved and lots platted. Each new area is referred to as a "colonia" or neighborhood. For the most part downtown or "El Centro" is considered to be from Melgar to 30th and from 6 Norte to 11 Sur. Accommodations in El Centro offer the obvious benefits: No need for transport since restaurants, shopping, and money exchanges are nearby, as well as a good selection of nightlife. Since downtown is situated on the waterfront, there are spectacular views of the sunset, as well as a newly created swimming area complete with buoys which is located next to the downtown ferry pier.

If there is a downside to El Centro lodging, it might be the increasing noise and congestion that result when an additional 5,000+ cruise ship passengers converge on the center of San Miguel. Typically most day-trippers are on their way back to their ship by sunset and the island's downtown shifts back into low gear for the evening.

Midtown Cozumel ~ The Best Values!

Cozumel has experienced tremendous growth in recent years and the fundamentals of the island's economy have changed as a result. While the economy continues to be tourist-based, the profile of the average visitor has changed dramatically over the years.

Folks who came to Cozumel in the 1980's and early 1990's found a simple fishing village that was on its way to becoming a popular diving destination. Divers who came to the island stayed for one or two weeks, eating in local hotels and immersing themselves in island culture and tradition. There was a quaint downtown plaza where Mexican families gathered on Sunday evenings, a nearby movie theater on the waterfront, and a few family-owned hotels, which were deemed both clean and affordable. The only franchises in the area were Dairy Queen and Subway.

Today, with at least 2 to 6 cruise ships in port daily, the face of Cozumel has changed. Melgar Avenue, which runs parallel to the ocean, has been made over to appeal to passengers who are in Cozumel just for the day. Commercial space around the downtown plaza and along Melgar Avenue has become so costly that most of the small family-owned shops and restaurants are being driven away from the waterfront and town square. The island's oceanfront boulevard is saturated with diamond shops and high-priced chain restaurants that cater to day-trippers whose main interest is shopping. The little movie theater has closed in favor of an 8-screen cineplex and the few small hotels that remain struggle against the massive all-inclusive beachfront hotels further south.






For those looking to purchase homes or real estate, midtown properties are particularly attractive because it was originally divided into oversized lots back during that era of San Miguel's expansion. Generally lots in this area measure 12 meters across by 30 meters deep, whereas something purchased in the pricier Corpus Christi area would likely be 12 meters by 20 – a significant difference when planning a construction project. This is a key factor in deciding value because not all properties throughout the city are of equal proportions.

This fundamental economic change has brought about the emergence of "Cozumel Midtown" as a marketplace for the best values on the island for eating and accommodations.

In the past, Cozumel was segmented into a north hotel zone, a south hotel zone, Corpus Christi and Downtown. Now, with the center of San Miguel and the waterfront essentially given over to cruise ship trade, regular vacationers and long-term visitors who want to experience local color and culture need an area defined just for them. They want to feel comfortable, yet at the same time know that they are getting a good value for their dollar. Midtown is coming into its own as the preferred area for this particular extended stay traveler market.
On the street map, Cozumel Midtown is essentially composed of two colonias - 10 de Abril and Adolfo Lopez Mateos. It is bounded by the 6th Street North and 11th Street South, and runs from 30th to 65th Avenue. Visitors often elect to stay in a vacation home in Corpus Christi or a hotel in the north or south because they imagine that it is closer to the downtown area. In reality the plaza is a quick ten to fifteen minute walk straight west from just about anywhere in the midtown area, whereas a taxi would be the obvious choice from any of the other areas just mentioned.

There are all kinds of great apartments, B & B's and other rental properties available in the midtown area, as well as some excellent restaurants. As of August 2001 Midtown became the home of one of the finest dining experiences on the island when La Mission Hacienda Restaurant opened its doors. Despite being a family-run landmark in downtown Cozumel with 3 locations, they eventually tired of the exorbitant rents in El Centro and elected to open their stunning hacienda-style restaurant in the heart of midtown on Avenida 55 and Juarez.

In the Insider's humble opinion, COZUMEL MIDTOWN is "the" new place to be for vacationers looking to find paradise at a reasonable cost.






Watch out for vacation rental properties that advertise themselves as "1 block from the ocean" or "walking distance to the beach". While these statements are factually correct, what they don't say is this: There are no homes in Corpus Christi that actually have nearby beach access, except through the lobby of a beachfront hotel. This entire residential area is blocked from the ocean by multi-level hotels and condos where access is denied or must be paid for by anyone wishing to snorkel or sunbathe. Visitors who gladly pay higher rental fees because they will be closer to the beach, eventually realize that the lower priced downtown and midtown properties are in actuality just as close.

Corpus Christi is not the name of a colonia in San Miguel, but rather it's a small area south of downtown that wraps around the Corpus Christi Catholic Church and a large neighborhood park directly in front of the church. The area roughly runs from 11th to 23rd Streets and is bounded by Melgar Avenue and 30th Avenue. It's basically a section of about 14 city blocks that straddles the colonias of Gonzalo Guerrero, Andres Quintana Roo and Colonos Cuzamil.

In addition to the island's largest Catholic church, Corpus includes the Chedraui supermarket and shopping plaza, a cineplex movie theater, and what will soon be the island's first bowling alley. It's a quiet residential area where one is within walking distance of one of Cozumel's largest supermarkets, however a visit to downtown may require calling a taxi, since it's approximately a mile away. The construction in this particular residential area tends to be newer and there are a number of beautiful vacation rental homes available.

San Miguel I and San Miguel II

These colonias are considered to be two of the most densely populated areas within the municipality and run from 23 Sur to 35 Sur, and on the west and east side by Avenida Pedro Joaquin Coldwell and Avenida 65. The community is made up of working class families, many of whom own their homes. As with each colonia in Cozumel, the parks and the churches are the main gathering places for children and families.






Always clarify what you are getting before you rent a beachfront home here in Cozumel. Ask the critical question: Where is the beach/ocean entrance? This is important because thee are many areas around the island where the old highway passes between a home and the beach. While this in and of itself is not necessarily bad, it should be a consideration if you have young children in your group. In addition, there are parts of the island where homes have been built atop rocky cliffs, so while you may indeed be on the water, there is no beach and actually getting down into the water can be a real adventure. Checking details like this can help avert a vacation problem: Ask now so you can relax later!

Chen Tuk and San Gervasio

These two sectors constitute the most recently opened areas of development for the island, and are bordered by Avenidas 85 and 135 running north and south, and Benito Juarez and Calle 11 to the east and west. Many of the roads remain unpaved and virtually all of the homes are still in some stage of construction. Chen in Mayan means small and Tuk is the name for a native fruit called cocoyol. San Gervasio gets its name for its close proximity to a grouping of rather important architectural structures, namely the ancient Mayan ruin site San Gervasio.