American Community Services (ACS)
now Cozumel Vounteer Connection (CVC)
in partnership with the Municipio de Cozumel, Club Tortuga,
Cruz Roja and other organizations
Project Coordinators: Karen Pedersen & Sherri Davis
---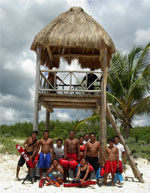 A lifesaving and aquatic rescue program is increasing safety at local beaches for vacationers and residents of Cozumel.

ACS (now Cozumel Volunteer Connection)participated with local government officials (Civil Protection, Economic Growth, Federal Zone, Marine Park, Tourism), Club Tortuga (a non-profit organization that provides professional lifesaving services), the Red Cross and other representatives from the public and private sectors to complete the initial phase of the program before the 2004 holidays and 2005 winter high season.





What was accomplished in the initial phase of the lifesaving program? What is the current status?
An assessment of Cozumel's beach conditions in January 2004 resulted in recommendations to implement a comprehensive safety program in phases.


Signs warning of swimming risks in areas with dangerous currents are posted on some east side beaches. Swimming conditions are monitored and red flags posted in selected east side locations if it is unsafe to swim.


10 full-time lifeguards hired by the city in April 2004 are trained in first aid and basic water rescue. Lifeguards received specialized rescue training for open water surf conditions during the Cozumel Lifeguard Academy in September 2004. The lifeguards work at several public beaches on the east and west sides of the island. In addition, one full-time experienced, trained lifeguard volunteers his time at Punta Morena, the original lifeguard tower donated by the Red Cross. The lifeguard team hired by the city and their supervisor are part of Civil Protection, similar to other safety related public services like the fire department.


Rescue equipment and other safety resources such as ongoing training needs are provided through a partnership between local government officials, ACS and Club Tortuga. Thanks to a number of local and US donors (individuals, non-profit organizations and businesses), donated rescue equipment and funding for training has supplemented the limited public resources available. Donations continue to be needed as the lifesaving program grows and lifeguards become experienced in more advanced rescue techniques.
Please email us if you have questions, would like additional information or are interested in providing donations for rescue equipment or training needs for the lifesaving program! cvc@cozumelinsider.com
A non-profit organization that provides professional services to lifesaving groups in Mexico and Latin America.


Club Tortuga members are professional lifeguards throughout North America and the world. They provide information and support development of open water lifesaving organizations to create aquatic safety and drowning prevention programs.


Club Tortuga is supporting Cozumel by sharing their expertise implementing programs in other Mexico locations, assessing beach conditions, recommending a master plan for the community, providing lifeguard training and educational materials in Spanish, recommending rescue equipment and assisting with equipment donations.



What led to development of the lifesaving program?

Did you know...
4-5 million people visit Cozumel annually; the majority are cruise ship passengers increasing the number of snorkelers and tourists visiting beaches. Many vacationers rent vehicles to explore the beaches.


Mobility of locals has increased dramatically from primarily walking/biking to owning motos/cars. More locals now explore all areas of the island, visiting beaches on weekends/holidays with their families even though many do not know how to swim.


Increased tourism and greater mobility among locals can potentially lead to more accidental deaths and incidents.


Drownings as a result of wading or swimming at the beaches have occurred sporadically among residents and tourists. Although few aquatic incidents are reported considering the large number of people using the beaches, many residents know others who have experienced a serious incident as a result of dangerous undertow or strong currents on the east side. Incidents in recent years led to public support for a lifesaving program.
How did the program get started? Who was involved? What has happened?
Project milestones October 2003 - February 2005
October 2003
The Red Cross, assisted by the Cozumel Foundation, developed a proposal and talked with municipal officials to gain support for an aquatic rescue program on the east side that included constructing towers, hiring lifeguards and providing equipment.


The Department of Tourism had previously developed a proposal for signs warning of risks. The US Consular Agent encouraged the effort and sought local business donors.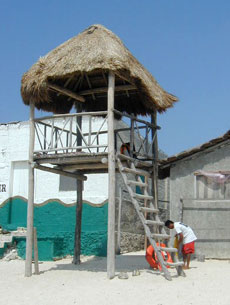 November 2003
The Red Cross sponsored construction of a lifeguard tower at Punta Morena, a popular surfing beach on the east coast, and employed a trained lifeguard who now volunteers his services as a full-time lifeguard.


American Community Services (ACS) initially became involved upon request of the Red Cross to research and access rescue equipment from the US. A water rescue rope was donated for use by the lifeguard at Punta Morena. ACS broadened research efforts to identify resources to help Cozumel develop a comprehensive lifesaving program, resulting in contacts with Club Tortuga.
December 2003
The Secretary General invited representatives from the public and private sectors to discuss a lifesaving program and resources. He confirmed the Municipio de Cozumel would support and fund a lifesaving program. Information about Club Tortuga was presented and it was agreed to seek Club Tortuga's expertise for an assessment.
January 2004
Early development of the program was guided by a working group of representatives from the public and private sectors to discuss issues such as recruiting lifeguards and coordinating signage. Capitan Daniel Alvarez, Civil Protection, was named as municipal leader of the program. Primary funding was allocated from monies already collected on an ongoing basis from concessionaires in the federal zone.

Dr. Victor Zavala, Club Tortuga representative and Professor of Marine Sciences at Autonomous University of Baja California in Ensenada, Mexico, visited Cozumel January 17-20 to conduct an assessment. Purpose of the assessment:

Evaluate beach conditions for swimming safety,
Evaluate plans to construct towers and identify needed rescue equipment,
Review community support and resources available from the public and private sectors
Recommend a comprehensive plan to implement in phases
Communicate how Club Tortuga's resources can benefit Cozumel. Share information from other locations in Mexico.



ACS was designated as Cozumel's liaison with Club Tortuga.


Club Tortuga donated two water rescue tubes via ACS.
February 2004
Dr. Zavala prepared a written report of the assessment with recommendations for implementing a lifesaving program in phases.
March-April 2004
Civil Protection launched a lifeguard recruitment campaign and selected 21 candidates to participate in Aquatic Safety and Rescue, an initial training that included First Aid, CPR, administering oxygen and basic lifesaving skills. Ten full-time lifeguards were hired by the city.


Lifeguards received rescue cans and first aid equipment provided by the city. They began work rotating daily among beach locations on the east and west sides of the island.


Permanent signs were posted at San Martin Beach on the east side closing the beach for swimming due to dangerous conditions. Lifeguards began posting red flags on selected east side beaches when currents are too dangerous for safe swimming.


Lifeguard towers were constructed at Chen Rio (east side) and at several public beaches and hotels on the west side of the island.
May-June 2004
Preparation occurred for the Cozumel Lifeguard Academy ocean rescue training with a special focus on surf conditions. The Academy originally scheduled in late June was postponed until September due to flood conditions on the island. ACS and Club Tortuga facilitated donations for needed rescue equipment including special surf rescue fins, masks, and snorkels in addition to providing training materials in Spanish.
September 2004
The Cozumel Lifeguard Academy presented by Club Tortuga was an intensive 5-day training session for the city's 10 lifeguards and their supervisor. Three lifeguard instructors led the city's lifeguard team in physical conditioning sessions, classroom instruction, pool practice of swimming and rescue techniques, open water rescue practice, timed trials, observing ocean currents and rescue simulations in surf conditions at three different locations on the east side.
October-December 2004
Lifeguards incorporated physical conditioning and rescue practice in ongoing training.
January 2005
Equipment donations from ACS, Club Tortuga and other donors were presented to lifeguards during a ceremony at the Municipio: 10 CPR masks, 600 meters of floatable rescue rope, 20 pairs of lifeguard shorts, 6 women's lifeguard suits, 3 warming jackets and 20 shirts.
February 2005
English classes were provided for lifeguards focusing on conversational skills related to their job.
Spring 2007 Lifeguard Program Receives Donation for Life Saved