Cozumel has over 130 dive shops plus countless freelancers who serve as many as 1500 divers daily on the reefs and walls of the island. With this level of diving activity, accidents can happen and recompression chambers are an important safety precaution for divers.

There are 2 hyperbaric chambers staffed with hyperbaric certified physicians waiting to respond to the medical needs of divers.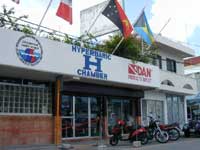 Cozumel Recompression Chamber
Radio VHF 16 and 21
872-23 87 and 872-1430
Calle 5 Sur #21B

Cozumel Hyperbarics Chamber
Radio VHF 65
872-3070
Located in the "San Miguel Clinic"
at Calle 6 between Ave 5 and Ave 10


Cozumel Recompression Center is supported almost entirely by donations of visiting divers who pay $1 per dive day to affiliated dive operators. For this dollar, CRC provides treatment for pressure/dive related problems and works with PRIMARY insurance carriers (DAN) to try to ensure that divers have no out-of-pocket expense for the treatment.