This page temporarily re-published April 15, 2014 in loving memory of my dear friend, PADI Course Director Eve Ackerman who on this date lost her courageous battle with bone cancer. See our tribute to her in the News In English for April 21, 2014 reprinted below.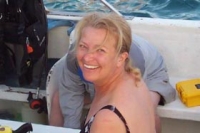 It is with heavy hearts and great sadness that we share with you the loss of Eve Ackerman who passed away on April 15, 2014 in Richmond, Virginia following a courageous battle with bone cancer.

A long time resident in Cozumel since 1990, Eve was a PADI Course Director and certified many of Cozumel's current Dive Instructors and Divemasters (including me) as well as thousands of Open Water Divers from around the world. This here, was Eve's Page on INSIDER that provides some insight into her teaching profession and the love she had for scuba diving.

Over the years, Eve worked with various dive organizations such as Pro-Dive, Aqua Safari and Galapagos Inn (now Scuba Club Cozumel) as well as conducted PADI Instructor Development Courses (IDC's) throughout the Caribbean and Pacific Rim. Eve's passion for ocean and ecology conservation lead to her many years of volunteer work in the Cozumel Marine Turtle Program and reef conservation efforts on the island.

For over 10 years Eve was a weekly contributor to the News in English section of Cozumelinsider translating articles of interest from sources throughout Mexico. In addition, she provided marine life and "around town" photos as well as research and investigation for other content provided on the INSIDER website. As a website contributor, a dive buddy, a turtle brigade volunteer for Brigada IslaMar and a dear, loving and loyal friend of decades, Eve will be immensely missed and forever remembered by her friends around the world for her love of Cozumel and dedication to sharing the sport of scuba diving with others.



Want to learn to dive or gain additional dive training?



Come join Eve in Cozumel where island breezes, warm tropical weather and clear blue waters make for ideal dive training conditions. PADI Course Director, Eve Ackerman has worked internationally since 1990 and conducted courses from the Caribbean to the Pacific Rim. Specializing in Instructor Development and employment counseling, Eve trains all levels from the first diving experience through specialized interests such as underwater photography, naturalist, ecology courses and many more.

A sampling of dive training options ~ the amount of time is approximate since every student receives the time and care they require to be comfortable and confident:

Discover Scuba Diving
This program lets you experience the thrill of diving under the supervision of a PADI Instructor in ideal conditions. The experience includes a boat dive on a shallow reef.

The Discover Scuba Diving experience is a great way to get a taste of dive training while getting a head start on your dive certification since the experience is part of the certification program.

Course Length: 4 hours Price: US$70

Open Water Diving Certification
With "Scuba Diver" as an intermediate certification there is little time commitment to your first certification level, with the comfort and safety of having an experienced guide with you at all times. If time and desire permits, you can finish the whole course during your vacation.

Scuba Diver Course Length: 1-2 days Price: US$200.
Open Water Course Length: 1-4 days Price: US$350
Upgrade from Scuba Diver to Open Water Diver Course Length: 1 day Price: US$200.

Open Water Referrals
For those who want to finish their four open water dives in warm, clear water!
Course Length: 2 days Price: US$175.

Adventures in Diving
Those of you who are already certified can gain valuable experience in specialized areas under instructor supervision. There are no quizzes or exams in the course, plus you have a choice of specialty areas to investigate. Three dives can be done in one day from a buffet of options. If you would like an Advanced certification, just the Deep and Navigation dives are required with any three additional dives, and one day is required to complete that level.

Adventures in Diving Course Length: 1 day Price: US$150
Advanced Open Water Diver Course Length: 2 days Price: $250
Upgrade from Adventures to Advanced Course Length: 1 day Price: US$150 & includes a 2-tank boat dive.

Rescue Diver—Serious Fun!
This is the next step in your dive education, and is designed to give you practical tools to handle an emergency effectively while reducing your personal risk. This is a great confidence builder and will increase your diving satisfaction. Scenario practice builds the skills you need in easy steps. Current CPR training within past 2 years is required for certification.

Course Length: 3 days Price: US$350.

Emergency First Response
CPR, First Aid, or a combination program, which includes both. Know what to do when no one else does! (Materials not included) NOTE: This course meets the requirements for CPR and/or First Aid training in Rescue and above. Course Length: 1 day Price: US$80

Master Scuba Diver
This is the highest non-professional level available in PADI. A truly elite group, Master Scuba Divers have a background through Rescue Diver, documented diving experience (50 logged dives) and certifications in five PADI Specialty Courses. It is an expert diver classification denoting superior achievement and commitment to excellence.

The base price for this certification is $500, however adjustments can be made for a customized specialty package.

Specialty Courses
Specialty Courses Length: 1 - 2 days
Price: US$125 to $200 individually; Inquire about multi-speciality pricing.


| | | |
| --- | --- | --- |
| Multilevel Diver | Night Diver | Coral Reef Ecology |
| Boat Diver | Peak Performance Buoyancy | U/W Naturalist |
| Drift Diver | Enriched Air | Fish Identification |
| Deep Diver | Project Aware | Search and Recovery |
| U/W Photographer | Reef Ranger | Oxygen Provider |
| Navigation | | |


Divemaster
The PADI Divemaster program is your first step leadership level in the PADI System of diver education. This rating denotes you as a person who:

Has a high level of personal diving skill.

Has instructor level knowledge of diving theory.

Has had significant training in how to assist an instructor during training activities.

Is able to assume appropriate responsibilities that benefit the welfare of other divers.

Course Length: 14 days Price: US$850

Assistant Instructor
Intensive training program and internship to qualify you to teach specific portions of dive education classes, assisting instructors in all level of course, certify specialties and Emergency First Response if qualified. If you don't have the desire to commit to teaching full time, this may be the course for you.

Course Length: 14 days Price: US$750 (discount for OWSI training if done within one year of AI training).

Instructor development
If you are an Assistant Instructor in a cold climate, why not finish your Open Water Scuba Instructor course in the dazzling comfort of blue tropical waters?

This can be done as a unit ($995) or as individual sections: AI and OWSI. Please write for details.

Instructor courses are scheduled in Belize at the end of January and in Cozumel mid-march each year.
Private training is done by appointment. Check back here for future course scheduling.

ATTENTION: Northern Course Directors ~ why not contact Eve to arrange a cooperative effort during the winter months for your instructor candidates and stay busy year around?!